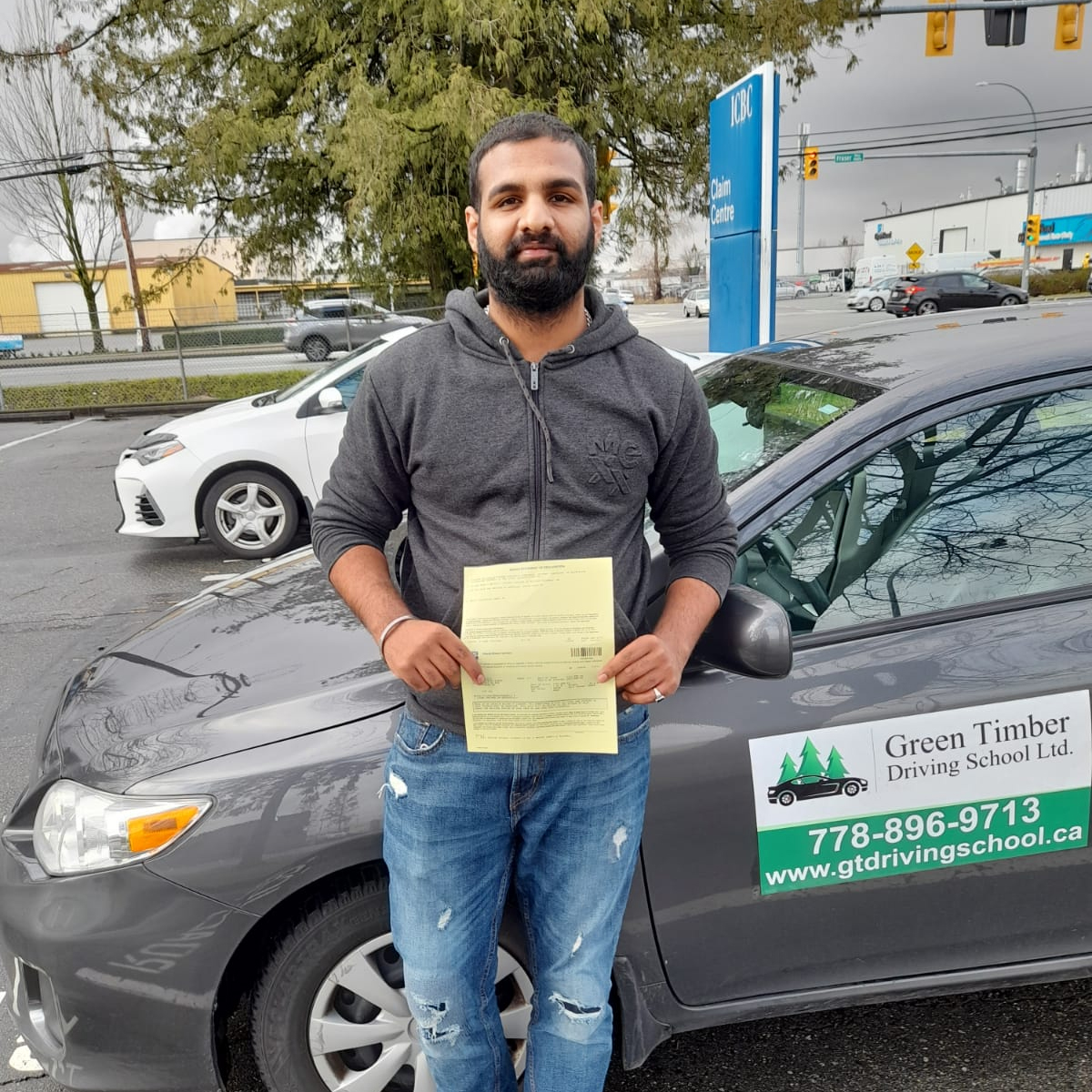 Jaspreet Singh 02 Febuary 2021
A big thanks to GT Driving School for not leaving any stone unturned and showing great interest and dedication in teaching me how to drive.
Noor Ahmad02 Febuary 2021
I would Say GT Driving School is one of the best driving schools in Surrey, BC. Very reasonable, professional and disciplined in providing driving lessons. I am happy that I passed my test in first attempt. Thank you.
Kamal kaur02 Febuary 2021
Please accept my deep appreciation for your patience and kindness, for your invaluable advices and devotion. Very Happy to have passed my driving test and to have you as my driving instructor.
Pavneet kaur02 Febuary 2021
I was very impressed with the lessons that I got from school, especially those I did before obtaining my license. They helped me become more confident in test! Thank you.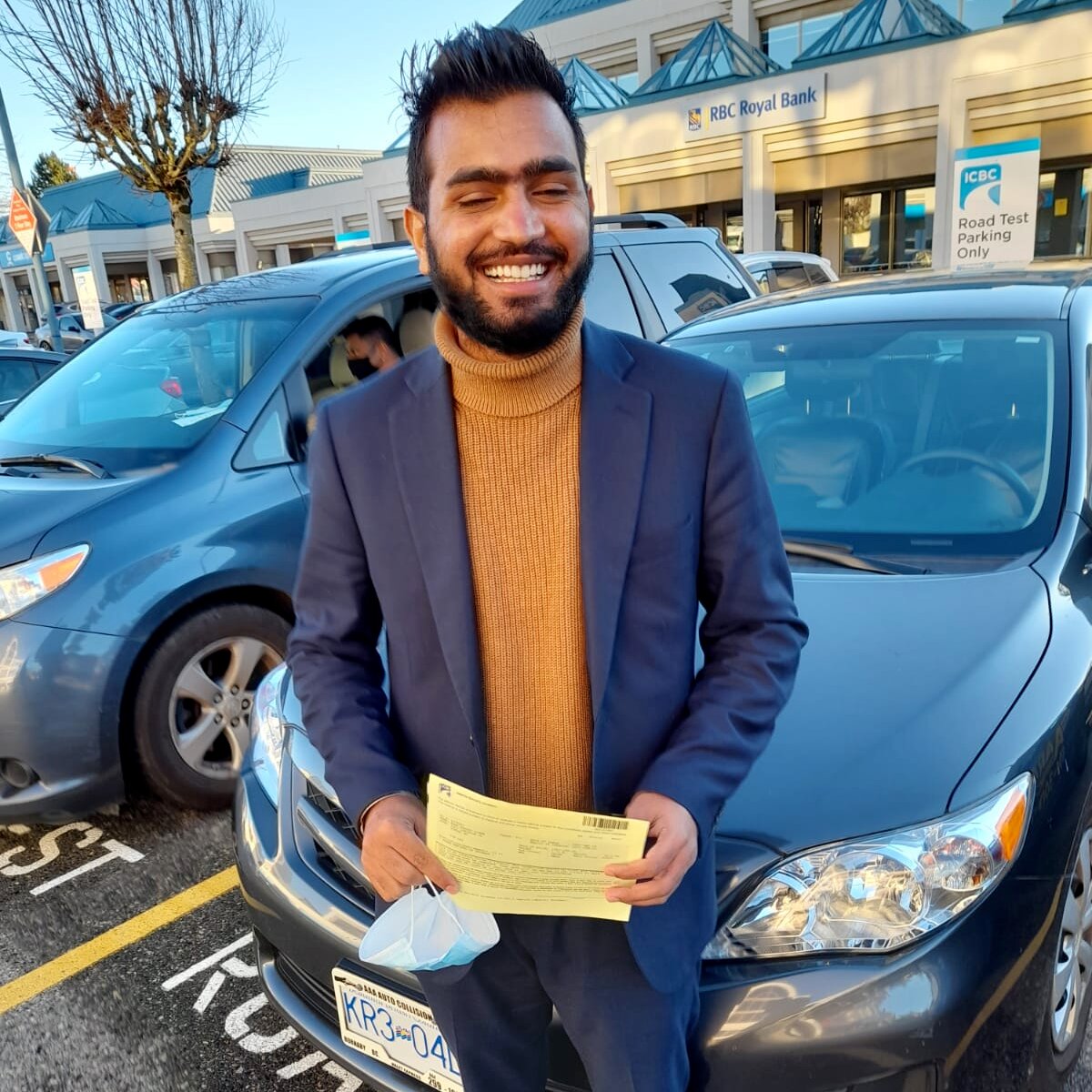 Parget singh02 Febuary 2021
Passed my driving test today! Can't thank you enough! You are definitely one of the finest instructor that we have in Surrey, BC. I definitely recommend GT Driving School!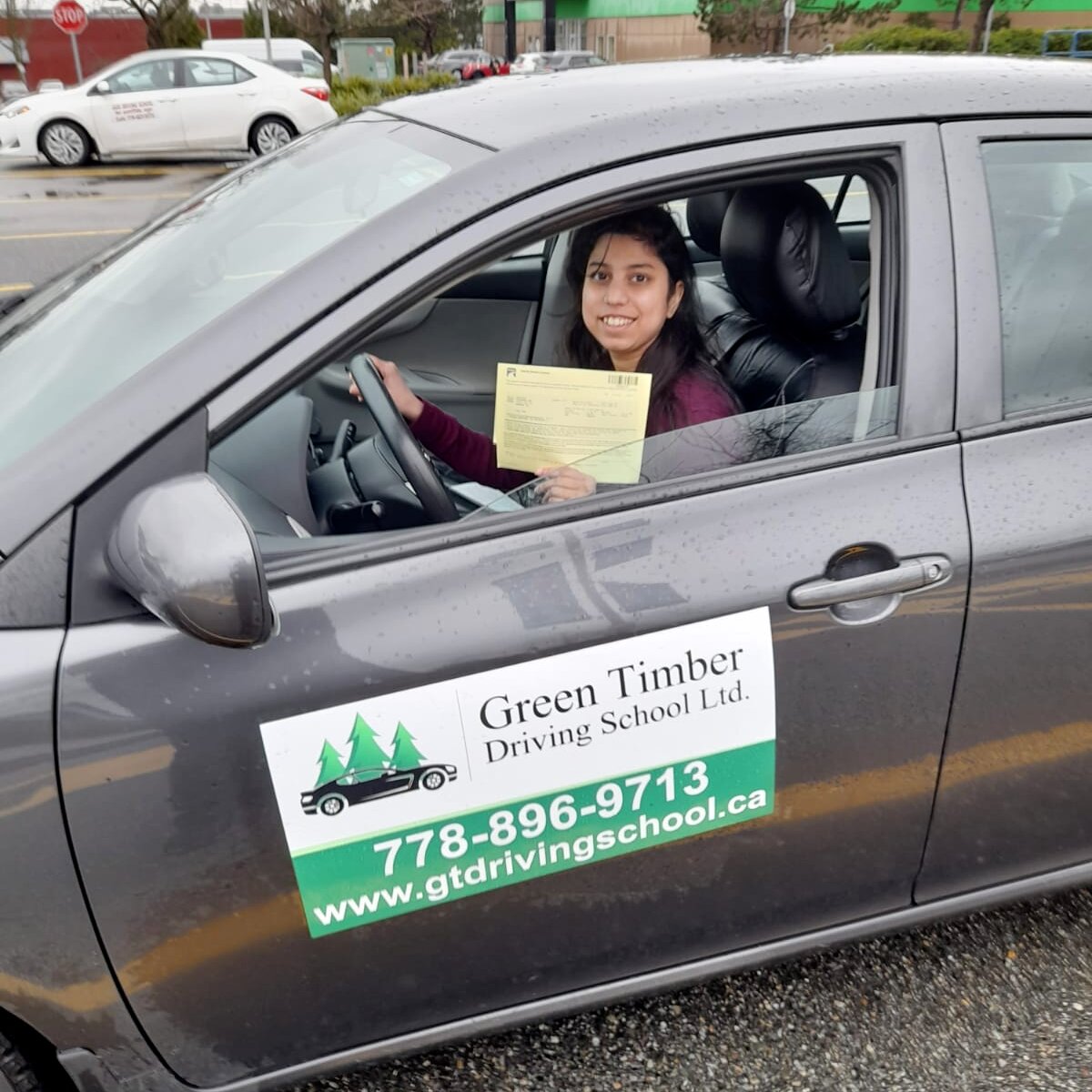 Annu02 Febuary 2021
Today I took my Drive Test and passed with flying colors! I didn't miss a single point. Thank you so much for the preparation and practice. I will recommend your services to any and all of my friends.
Inderjeet kaur02 Febuary 2021
Very easy to book an appointment and the instructor was prompt and professional. Excellent!
Sukhvider kaur02 Febuary 2021
Very happy that I got my license on my first attempt after joining Green Timber Driving School. My heartfelt thanks to the instructor for everything I learnt a lot form him. Very professional and disciplined indeed. Keep it up!
Prabjot Singh02 Febuary 2021
Good instructor and easy going. Had good lessons, brush up and ended up with passing driving test. Highly recommended!
Gurshanveer Bajwa02 Febuary 2021
I'm so much happy, I passed my test today. I thank my instructor for the guidance and pushing me till I pass. I am happy and excited to be on road with confidence.
Manpreet singh02 Febuary 2021
He is an amazing driving instructor who helped me to get a perfect score on my driving test. I learnt it quick and easy. Best person to learn driving. I will be recommending him to rest of my friends!
Alisha kaur02 Febuary 2021
The instructor was one of the best driving instructors out there. So patient and calm but also methodical. He really knows how to teach and build confidence in a learner driver. He is good.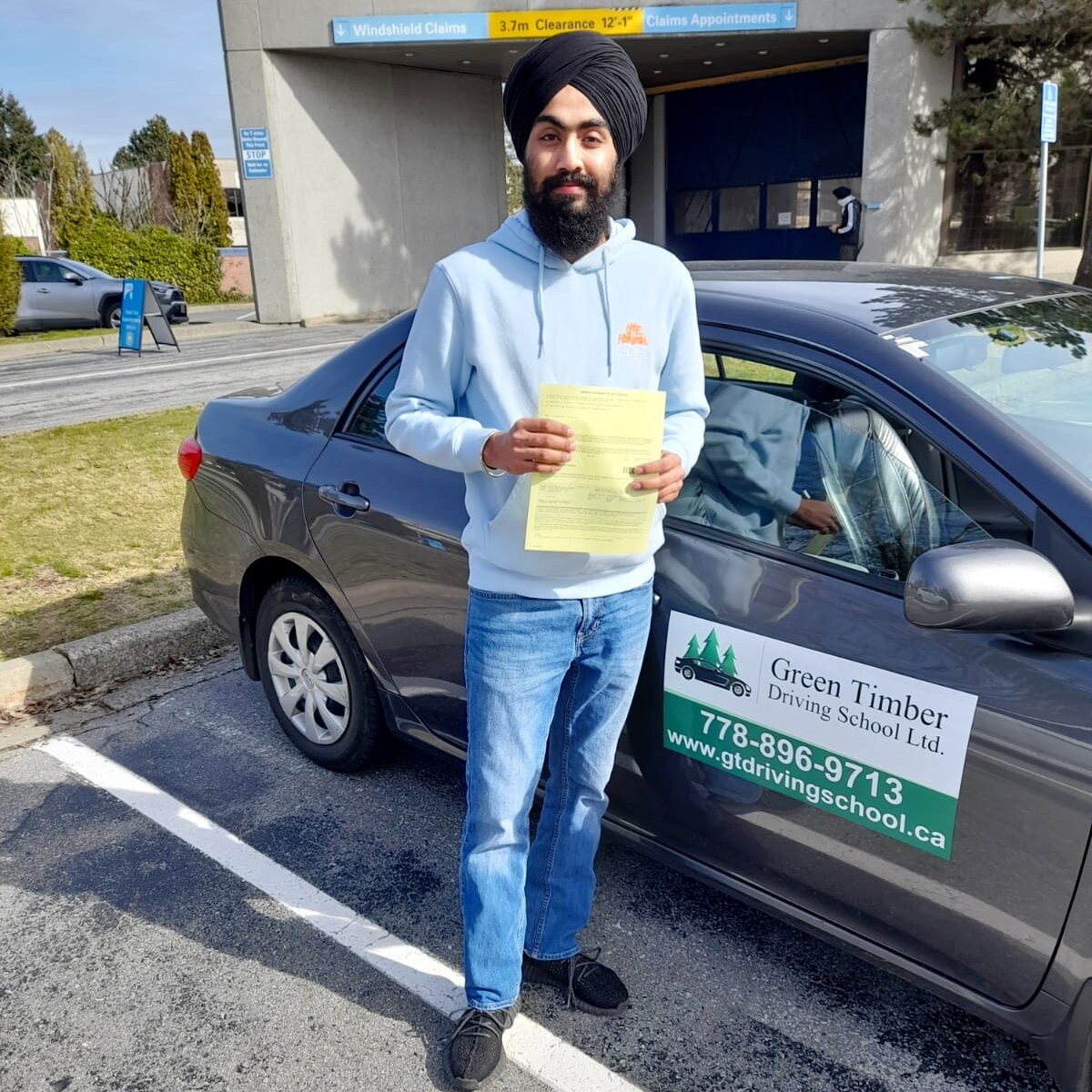 Harsimran Singh02 Febuary 2021
Passed my test first time with 'Green Timber Driving School. Excellent teacher, motivational and patient with me. Explained things very clearly. Very positive when you are struggling with something, I would highly recommend.
Muskan Gill02 Febuary 2021
We are lucky to have a resource like GT Driving School in Surrey, BC. Very friendly and comfortable learning experience. I will surely recommend it to my friends.
Yadwinder Singh02 Febuary 2021
Very easy to book an appointment and the instructor was prompt and professional. Excellent!
Abhishek Gupta 28 April 2021
Possibly the patient and most consistent instructor I can get! Never gave up on me and always had faith in me and managed to get me passed! Anyone wanting a driving instructor definitely go for GT Driving School!
Harzeenat Kaur 28 April 2021
I Moved to GT Driving School after having lessons with another instructor before. He had to pick up the pieces and get me through my test, which he did. Not only he is a class driving instructor he's a gentleman as well. There was never any dull moment during my driving lessons. He kept me involved and here I am.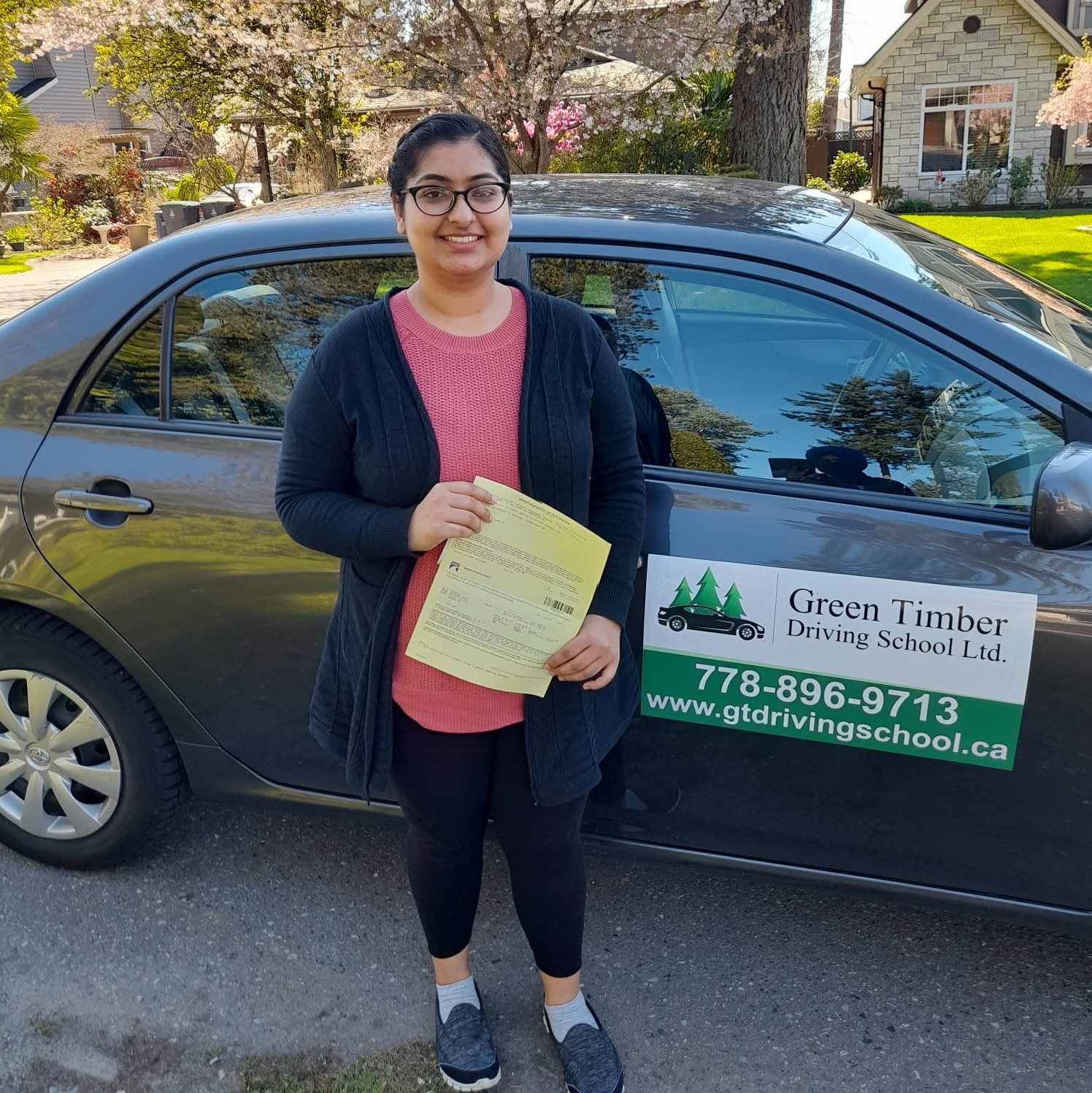 Gurleen Kaur 28 April 2021
Brilliant instructor. Caters all of his lessons to his students needs and makes driving enjoyable, easy as well as increasing confidence once passed. Cannot recommend enough. He is the best in town.
Parneet Singh 28 April 2021
What a lovely guy to learn driving. Very friendly and easy going. We would always have a laugh on our lessons and he made teaching fun and enjoyable. He cares about his pupils so much and will always be supportive and proud to see you pass. Highly recommended.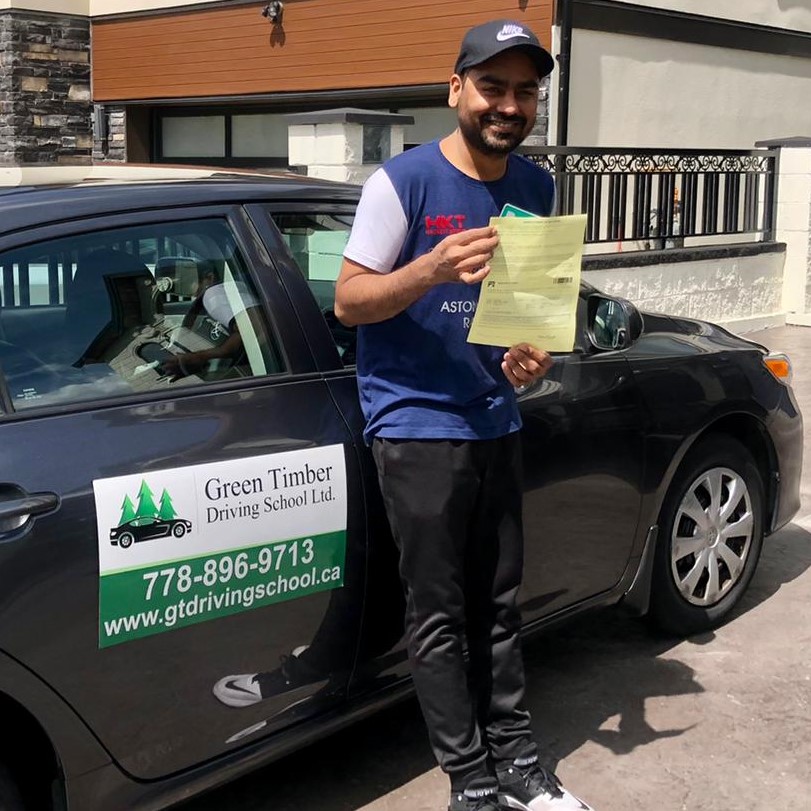 Harpeet Singh 11 May 2021
Very smooth and comfortable learning experience. Lucky to have him as my driving instructor. Very prompt and professional. Thanks You GT Driving School.
Gurpeet Kaur 11 May 2021
If you are looking for a driving instructor in Surrey BC, just like i were; look no further. GT Driving School gave me best learning experience. Very nice guy. Now i get on road with confidence and License.
Ranjit Singh 22 May 2021
Driving classes were very helpful, instructor provided me with some new information and tips as well. I also feel that it would be beneficial to anyone who drives, to take driving lessons from Green Timber Driving School.
Prabjot Kaur 22 May 2021
I'm very excited now that i have got my driver's license. The lessons very helpful and informative. It was very good learning experience. Bundle of thanks to the instructor and Green Timber Driving School.
Bhawanjot Kaur 05 Jun 2021
Today was my first drivers training appointment. Instructor was awesome! I definitely felt comfortable and more confident when i got back home after my first session.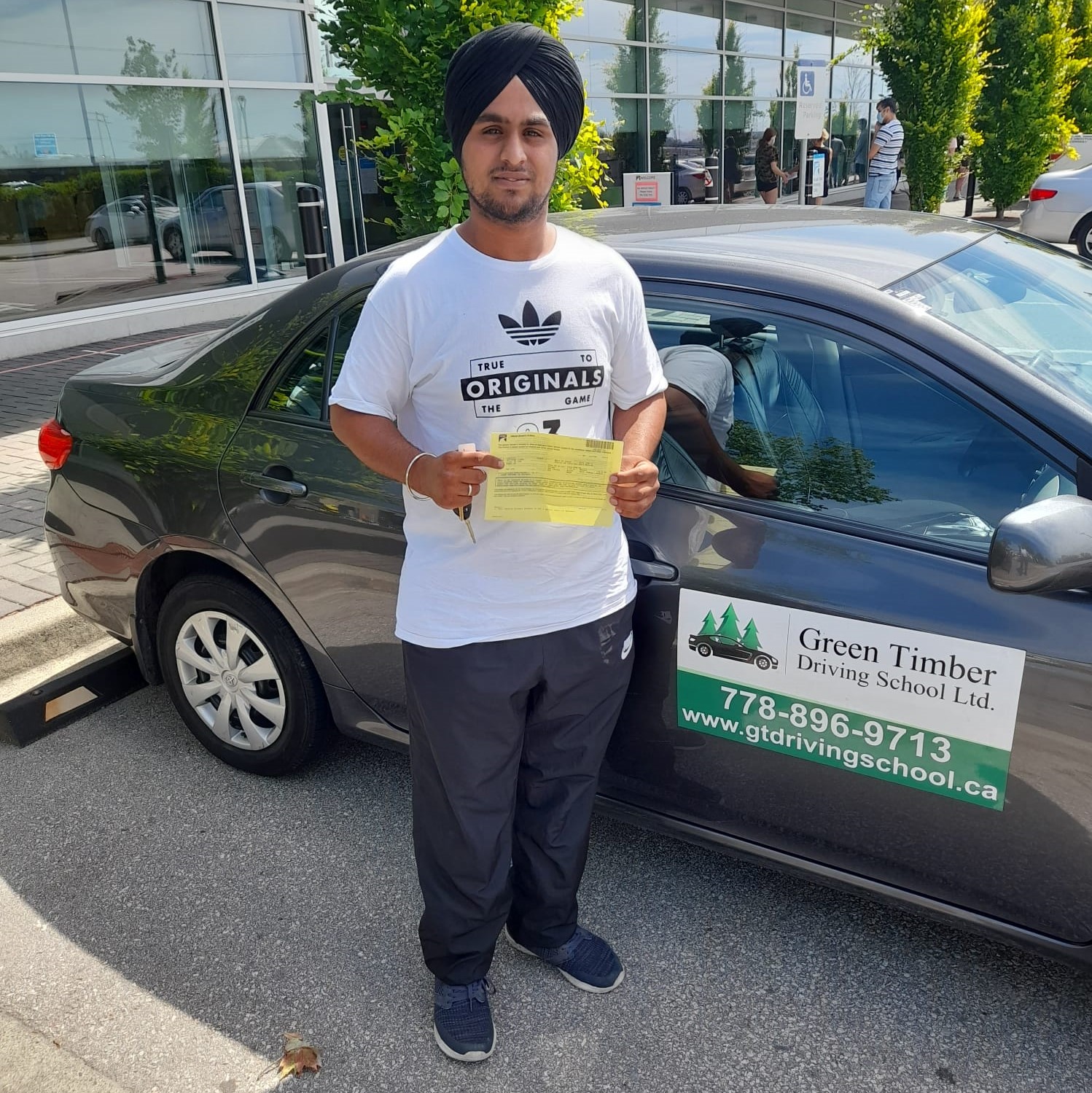 Ravinder Singh 05 Jun 2021
Green Timber Driving School is an excellent driving school! Instructor was on time and taught me what I needed to know. He was also very kind and patient. I Would recommend it to everyone!
Sandeep Kaur 30 Jun 2021
Very friendly and comfortable learning experience. Lucky to have such institute around us in Surrey, BC. Now i feel more comfortable and confident driving around.
Manjinder Kaur 30 Jun 2021
I were very nervous at first but now i have passed my test with GT Driving School. Very patient and excellent teacher. I would surely recommend them to other students.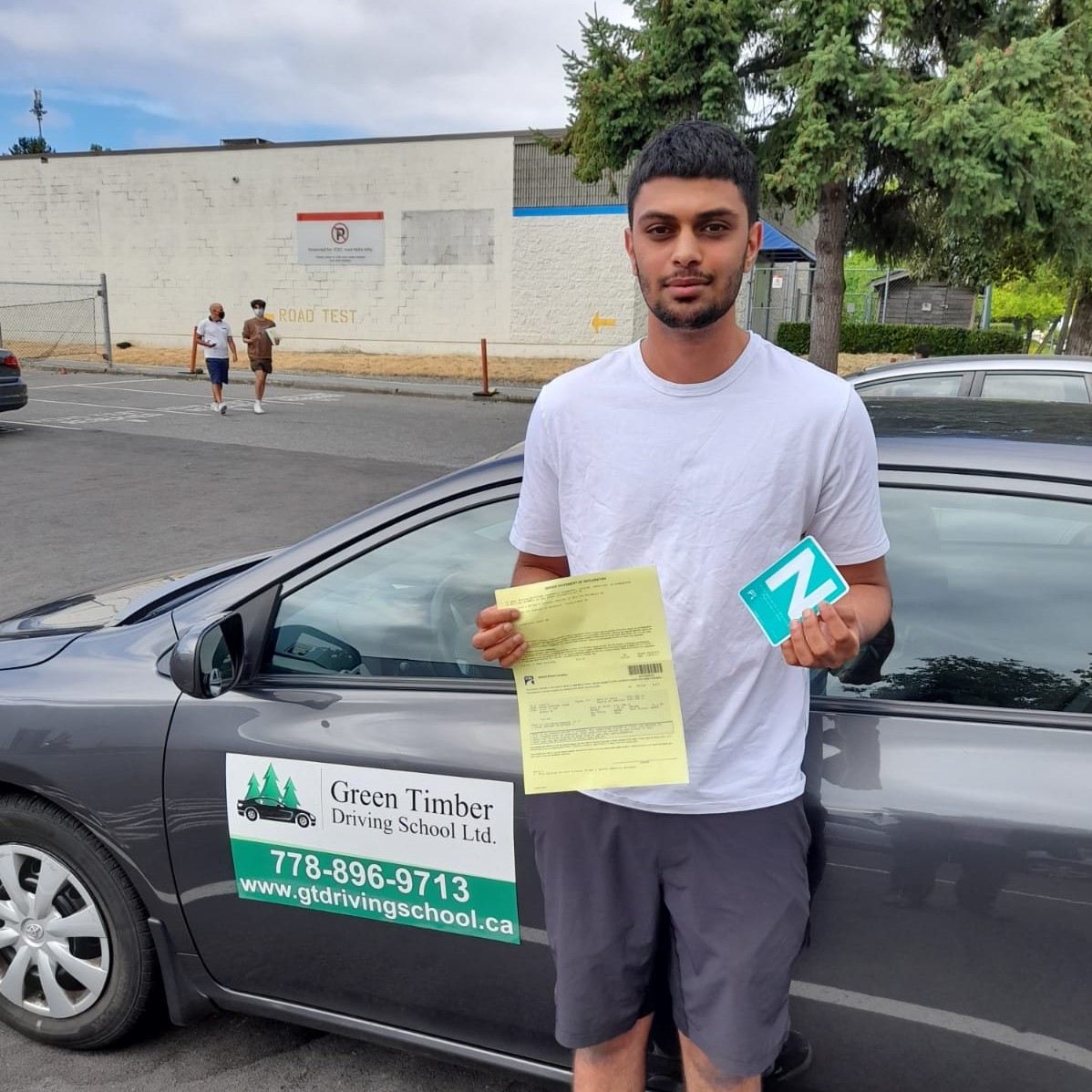 Paramvir Singh 15 Jul 2021
it is the best Driving School I have ever been to and I loved it. The instructor is very patient. Professional understanding and helped me gain my confidence of driving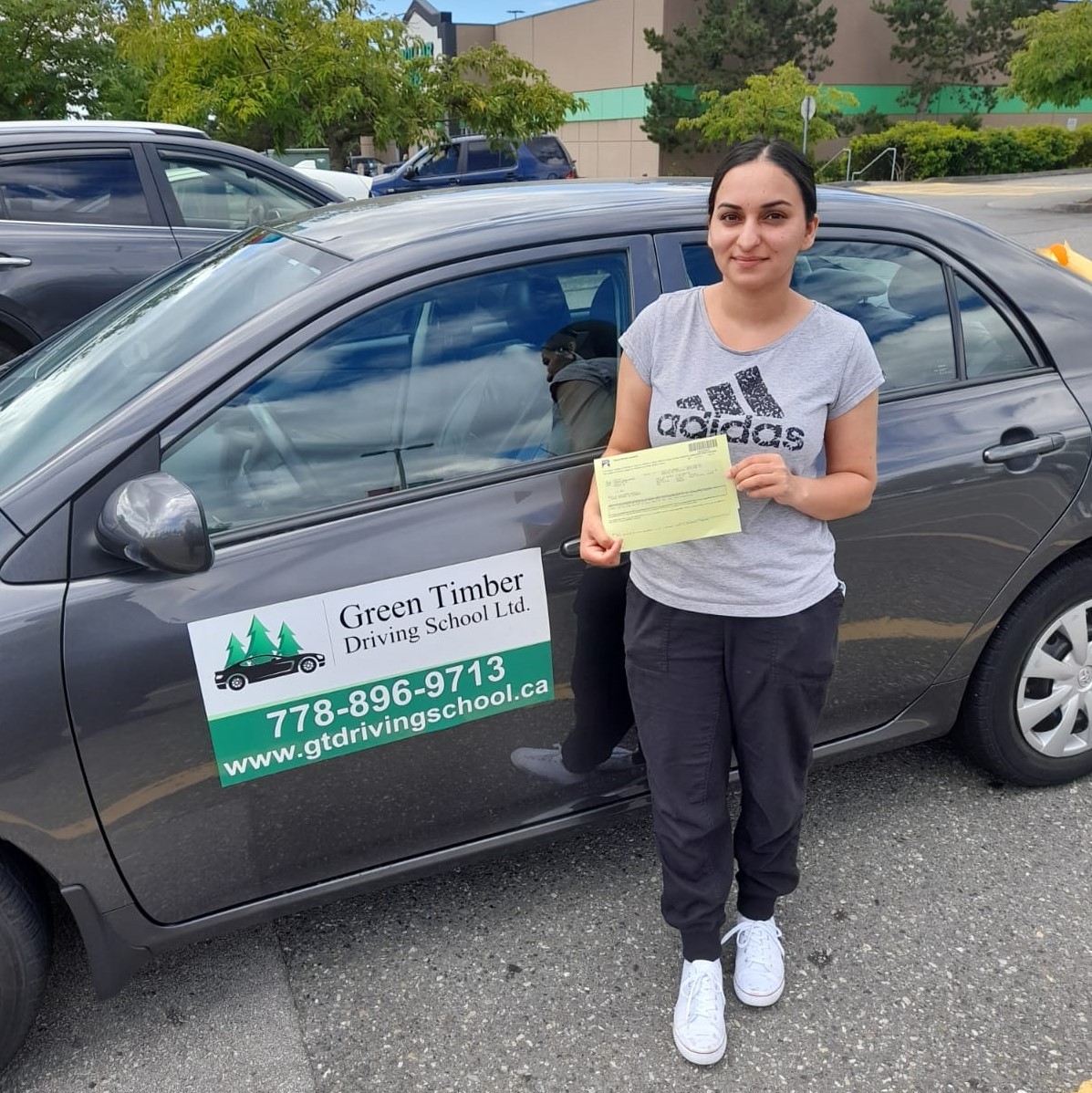 Kamalpreet Kaur 22 Jul 2021
Once again Green Timber Driving School was GREAT!. The process to register was very quick and i were able to schedule my behind-the-wheel sessions easily. It is very organized.
Irvanpreet Kaur 27 Jul 2021
Green Timber Driving School is amazing! I had my first lesson and the instructor was great! He said it was a calm easy drive and he made me feel super comfortable behind the wheel.
Rajdeep Singh 27 Jul 2021
Had best experience with my instructor for my driving course and he was very friendly and helpful. Because of him I have learnt important skills needed to be the safest driver I can.
Samreen Sandhu 05 Aug 2021
Fantastic! He is a great driving instructor. He helped me to get a good score on my driving test. Quickly and easily. I will surely be recommending him to my friends!
Baljit Kaur 06 Aug 2021
Passed my test finally! Biggg Thanks to GT Driving School for all the help and support given. Also, the advice given by instructor was always brilliant, thank you once again.
Pawan Grewal 16 Aug 2021
He is an awesome teacher and incredible person. He adapts to your needs and brings the best out of you. I can assure that he is a dedicated professional, patient instructor.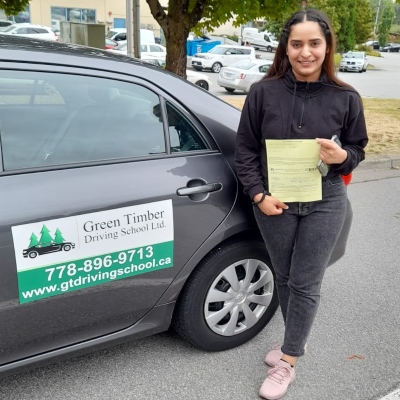 Mandeep Kaur 15 Oct 2021
Having been a true beginner with hardly any experience, learning to drive was no joke. But under their one-on-one instruction and support, I got real training and finally received my license.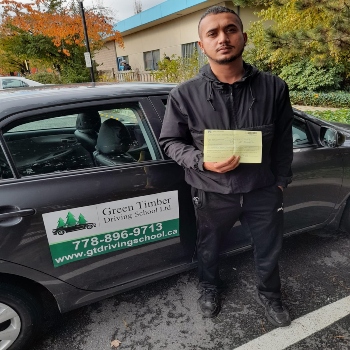 Gurvinder Singh 22 Oct 2021
The Instructor is amazing. Really very patient and calm and made my lessons easy and enjoyable. My driving improved drastically in a very short period of time.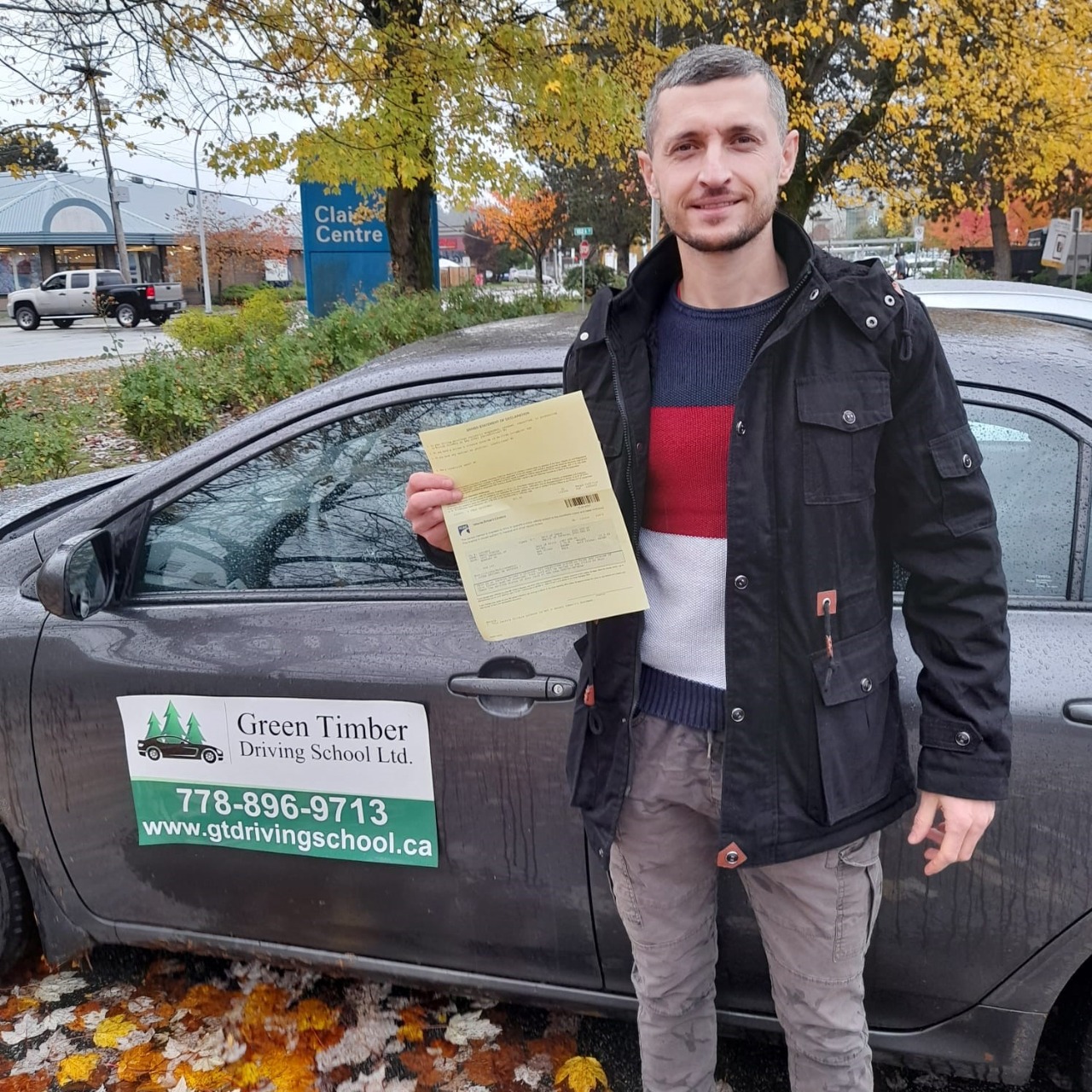 Sinisa Nezic 27 Oct 2021
Great experience with learning how to drive. This is most definitely the best driving school out there. Did not had any difficulty while having lessons. Would surely recommend!
Amarjeet Kaur 28 Oct 2021
I could not have asked for anyone better. Instructor was such a big help on my journey to getting my license as he is full of knowledge and knows how to guide you in a better way.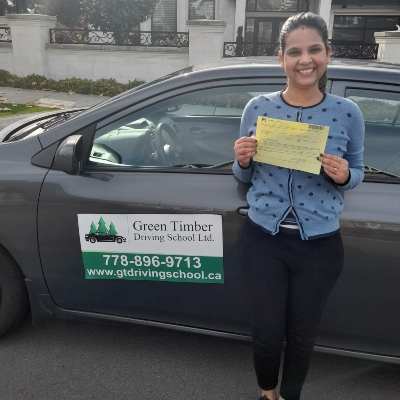 Neetu Aggarwal 03 Nov 2021
I had a wonderful experience while learning. The instructor helped me gain confidence in my driving. He always returned calls and was very prompt. Highly appreciate his efforts
Mehakdeep Singh 11 Nov 2021
Fantastic! Instructor was awesome help on my lesson providing thorough instructions and explanations so I could understand. He let me take control of the vehicle when I was ready.
Gurpreet Kaur 23 Nov 2021
Instructor focused on everything important and guided through everything in detail. When test time came, I wasn't nervous at all because I have been trained so well.
Dhanaji Suravase 23 Nov 2021
One of the best driving school in the town. Credit goes to awsome instructor. With his continuous guidance and support, I have become a safe driver. Thank you for your hard work.
Nooriinder Dhillon 25 Nov 2021
This Driving School is the best place to learn driving systematically. Thanks to instructor, I am a confident and responsible driver now. Highly appreciate his efforts.
Gurpreet Gill 02 Dec 2021
I started taking driving lessons from instructor not too long ago. He is so easy to get on with, really friendly and a great instructor. He makes you feel very calm and goes at your own pace. Really appreciate him